A more sustainable future for cruising in the Norwegian fjords
Supports ambitious goals for a sustainable development
Møre and Romsdal aims to be Norway's most sustainable county. The cruise ports and Visit companies have joined forces to facilitate sustainable cruise tourism.
On Tuesday 5. October 2021, we invited cruise line representatives to a digital round table meeting to discuss how we can contribute to reach this goal. The county has welcomed cruise ships for more than 100 years and hope to do so for a 100 more, states Monica Berstad Mæland from Ålesund Cruise Network, who initiated the event.
Going new directions
Environmental requirements are tightened, and Norway's new National Tourism Strategy focuses on the importance of creating local value with a smaller footprint. Ålesund Cruise Network together with the ports of Ålesund, Geirangerfjord, Kristiansund, Molde & Åndalsnes and the Visit companies, invited cruise line representatives to a digital round table meeting on how we can cooperate to navigate the green transition and develop a more sustainable cruise tourism. 13 different cruise lines with a total of 23 representatives from all over the world participated in addition to representatives from the ports and Visit companies.
Our goal is to work together with the cruise lines to develop sustainable and environmentally friendly solutions. The cruise tourism has great ripple effects when it comes to local businesses within transportation, shops, restaurants, museums and much more. Our goal is to work together with cruise lines and other stake holders to come up with creative new concepts for land-based activities and year-round cruise destinations. We will do this by looking into the itineraries and infrastructure, combined with attractions and activities this area can offer, says Monica Berstad Mæland.
Attractivity through sustainability
The purpose of the meeting was to start a dialogue, exploring new opportunities to help create a cruise tourism with a small footprint. The feedback from the participants suggests that the initiative was well received.
The ports are working to facilitate, with the development of Onshore Power Supply, waste management and the introduction of the Environmental Port Index. The short distances between the ports makes it possible to sail between ports at a slow pace, using less fuel while still ensuring a varied and exiting itinerary. Longer port calls, spreading the traffic and taking advantage of the ports close proximities to major attractions creates value for local businesses and leads to lower emissions without compromising on quality. Møre og Romsdal is the second largest county in Norway in terms of number of cruise calls and it is therefore important that we take an active role when it comes to the further development of the cruise industry in Norway.
---
Expected cruise calls in 2022
Kristiansund has 47 calls and 36,000 passengers in 2022. The calls are spread over 10 out of 12 months.
Molde & Åndalsnes expects a total of 133 calls and 310,000 cruise passengers in 2022. Traffic is spread throughout the year, but most of the calls are still in the summer months.
Geirangerfjord is experiencing a significant as a result of the environmental requirements and has approx.150 calls in 2022.
Ålesund expects 263 calls and 570,000 cruise passengers in 2022, the growth has come in the shoulder season, and it is gratifying that we have calls 12 months a year. It is particularly gratifying that from January to the end of April we have 52 calls and 67,000 passengers.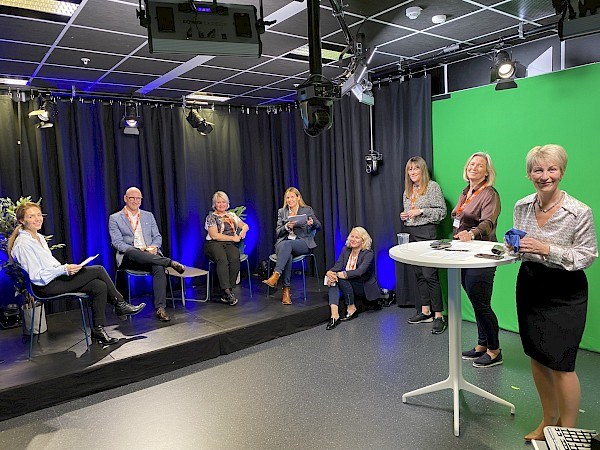 Contact person
Erika Indergaard
Cruise and marketing manager
Phone: +47 40246474 
E-mail: ei[at]knhavn.no 

The stone steps up the Mount Kvernberget in Kristiansund are now finalized. Panoramic views awaits you at the top! 

In September, we hosted a group of 20 cruise line representatives during the Cruise Norway FAM trip in the northern fjord region. 

Strømsholmen Sea Sport Centre is located at the Atlantic Ocean Road. In addition to seal safari and diving, they now offer ocean safari with RIB boats.